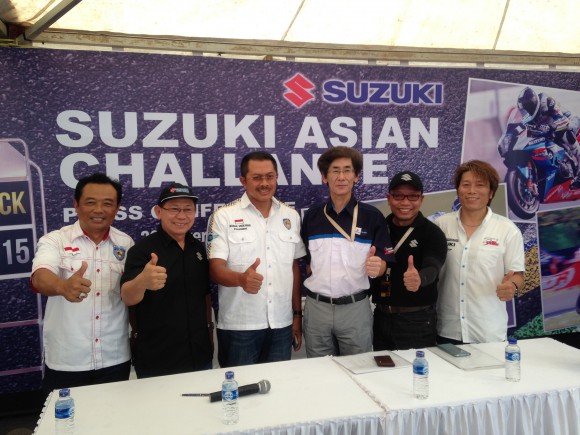 Details of the Suzuki Asian Challenge Indonesian preliminaries announced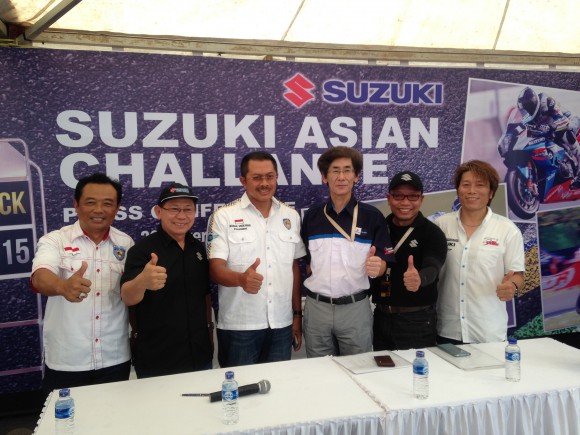 "The Road to MotoGP" for Indonesian Riders announced
Details of the Indonesian preliminary rounds of the Suzuki Asian Challenge have been announced November 23rd, 2014 during the final round of the 2014 Indoprix, held at Balipat Circuit in Binuang, Indonesia. Mr. Motoo Murakami, Managing Director for Motorcycle Operation of PT. Suzuki Indomobil Sales, as well as Yukio Kagayama, producer of the Suzuki Asian Challenge was present to make the announcement.
The Indonesian National Championship, "Satria Cup"  will be held from January to February 2015 at Sumatra, Jawa I, Jawa II, Kalimantan, and Sulawesi.  This talent development class will be open to all riders from every part of Indonesia, and will run on a single platform: the Suzuki FU150.  The first five riders from each local "Elimination" Round will go to the Final Round which will be held at the Sentul International Circuit.  The top 3 riders in the Final round will advance to the Asian Road Race Championship starting from April, 2015.
All 3 selected riders from Indonesia will compete with the representative riders from other Asian regions such as Thailand, Vietnam, Philippines, Malaysia, Cambodia, Singapore, and  Japan. The Asian young talented riders will possibly step up to the All Japan Championship, or the European Championship, and maybe to the Moto GP in the future.
"On September 30, 2014, in Cologne, Germany, Mr. Toshihiro Suzuki, Vice President of Suzuki Motor Corporation officially announced the Suzuki's return to Moto GP in 2015 season. On November 8, at the Chang International Circuit, Thailand, the Suzuki Asian Challenge, the new Suzuki initiative in racing was unveiled." said Mr. Murakami.
"Today we are very pleased and excited to announce the Indonesia National Championship which can be called "Satria Cup" here in Binuang, Indonesia. Since the first victory at the Isle of Man TT race in 1962, Suzuki has been building the distinctive Brand image on the basis of the racing technology and the victories all over the world. Suzuki strongly believes (that) this latest initiative will contribute towards the talent building not only in Indonesia, but also in other Asian regions by expanding our racing activities on the nation-wide "Grass-Root" basis. We would also like to offer every FU150 customer the racing opportunities using the Suzuki unique platform and enjoy the Motorcycling. "Don't race on the streets, race on the tracks." Not only riders, but also the Dealers, families, friends will enjoy supporting their local heroes as well, that is our goal.", Mr. Murakami concluded.
Yukio Kagayama said "I have been racing together with Suzuki for 24 years.  My experience, racing in MotoGP, WGP GP500, World Superbike Championship, World Endurance Championship, British Superbike Championship, All Japan Road Race Championship, and the Suzuka 8 Hours will help me provide talented Asian riders with the right directive, and make Suzuki Asian Challenge, a program that will eventually develop an Asian MotoGP rider in the future."
The 2015 Asia Road Racing Championship is scheduled to begin in April 2015.