Uramoto finishes 3rd for his first podium of the season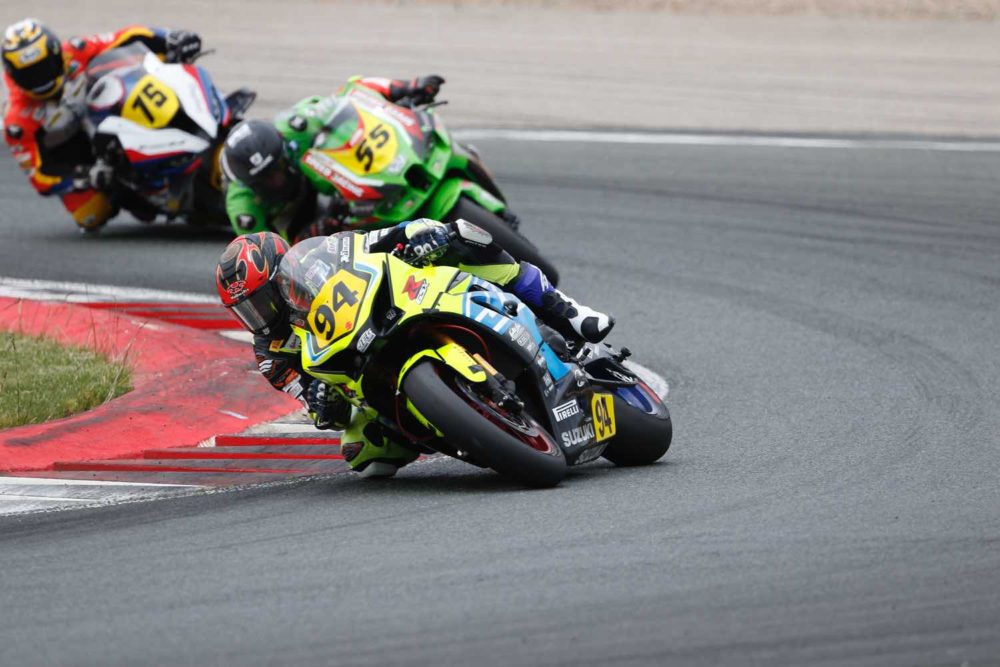 Naomichi Uramoto Media Information | 05.17.2021
The second round of the 2021 ESBK 
CAMPEONATO DE ESPAÑA DE SUPERBIKE took place at Circuito de Navarra, located at Northern Spain. Summer is crawling near in Spain, and warm temperature enveloped the circuit. Uramoto showed speed from the pre-race testing here at Navarra, and was well prepared for the race weekend.
His speed continued on to the race weekend, starting at the untimed sessions on Thursday and on timed practices on Friday. However, there still was a significant gap between Uramoto and the top lap times, and Uramoto concentrated on shortening that gap. Qualifying was held Saturday morning, and Uramoto started his flying laps from the beginning of the session. On lap 3, when the tire became appropriately warm, Uramoto slid into P4 with a lap of 1.39.995. He was determined to lap faster, but rain started to fall in his 5th lap. Uramoto had to settle for qualifying 4th for Race 1. Race 1 was held Saturday afternoon, with the weather still unstable. The race started in dry conditions, and Uramoto was already in P3 in his second lap. However, a sudden heavy shower in lap 4 made Uramoto hesitate a little. Because of this hesitation, Uramoto dropped to P4, and the gap between the leader widened. The rain stopped immediately, and Uramoto restructured himself and gained momentum to catch the leaders. Uramoto took back P3 halfway into the race, but the leaders were already far ahead of him. Uramoto finished 3rd in the race, and was the first podium finish for both himself and the team this season. Sunday, Race 2. Starting from the front row, on the number 3 grid, Uramoto dropped to P6 at the first corner at start, but gained back to P4 immediately on the opening lap. Uramoto climbed to P3 on lap 3, and from thereon, he would engage in a battle with 3 riders for P2. He dropped to P4 on lap 6, but was all behind the riders in front of him. However, Uramoto could not manage to pass the riders, and settled for 4th in the race.
Naomichi Uramoto
I was feeling really good with the bike from Day 1, so my results this weekend is not what I wanted. In Race 1, a sudden rain made me hesitate a little. In Race 2, I tried everything I could to pass the riders in front of me, but I just couldn't pass them. I thank you all of you again and hope to see again at the next round,.
Result
CAMPEONATO DE ESPAÑA DE SUPERBIKE
Round 2 Circuito de Navarra 5/14-17 Qualify  4th  1.39.995 Race 1  3rd    1.39.843 Race 2  4th   1.39.998 Standings 5th 42 points
*All Photos by Francisco Fraile Martin