Uramoto encounters nightmare in Race 1 and haunts him in Race 2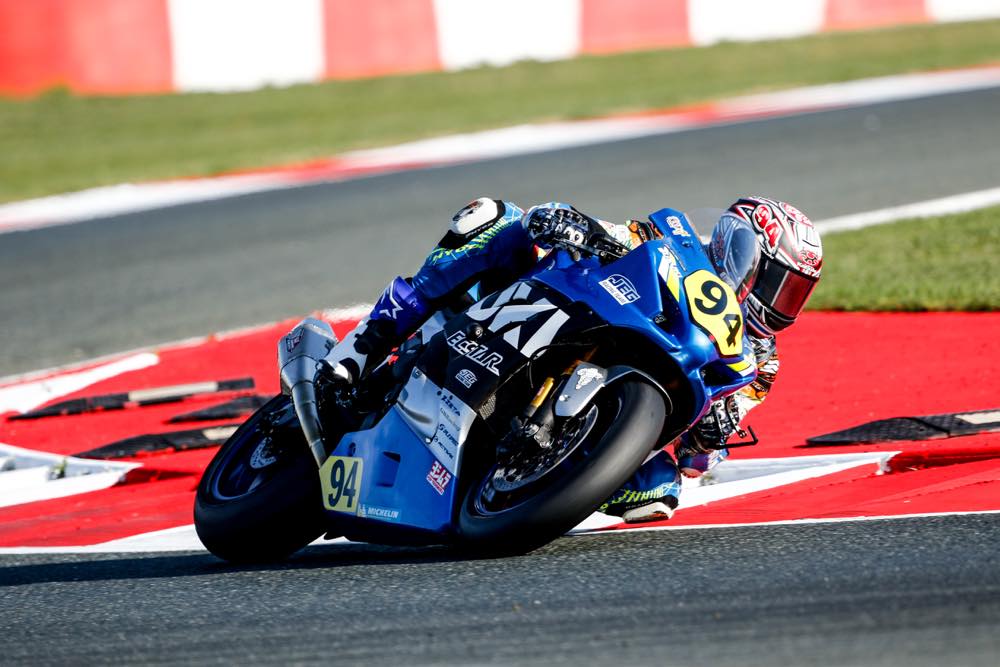 Naomichi Uramoto Media Information | 10.19.2020
The season was heading to the right direction for Naomichi Uramoto, as he arrived at Circuito de Navarra for the 2020 ESBK CAMPEONATO DE ESPAÑA DE SUPERBIKE. As COVID-19 infections are re-surging in Europe, Uramoto took extra prevention measures and arrived at the circuit. The circuit was the venue for the opening round of the Championship this season. The 3.933km track, located in Los Arcos in northern Spain consists of 15 technical corners.
Showing speed on Thursday and Friday during the non-timed practice sessions, Uramoto continued to show speed on Saturday morning, as he qualified 5th with a lap time of 1'39.843.
Race 1 took place Saturday afternoon. Although Uramoto dropped two positions at start, he would take back his grid position on Lap 3, and by lap 8 he would take another position to 4th. Uramoto showed speed and would catch up with Marc Alcoba who was running 3rd. On the final corner of the 13th lap, Uramoto passes Alcoba to 3rd, but Alcoba taking the cross line retakes 3rd. But on this move, Alcoba's rear tire touched Uramoto's front tire, which led to a huge crash for Uramoto on the home straight. Although the machine was severely damaged, Uramoto was lucky to come out of this crash with just a few scratches. However, the damage on the machine would haunt Uramoto for the rest of the weekend.
One of the reasons of Uramoto's speed this year, was due to the new front fork he started using this year. However, the crash in Race 1 damaged the front fork, and later found out that the team had no spare. As a result, Uramoto was forced to go back to his old fork from last season. Uramoto has been maturing his machine using the front fork for the whole season this year, and using a different fork which he has not tested meant that it would be a difficult race for Race 2.
Uramoto tested the old fork in morning warm-up, on Sunday, but there was not much he could do for a 10-minute session. As he started Race 2, Uramoto checked the fork as he lapped. In spite of this, he would make up positions as he lapped, and eventually finished the race in 6th position.
The final round of the series is scheduled for 7-8 November at Circuit de Jerez-Angel Nieto.
Naomichi Uramoto
"The weekend went pretty well until the crash in Race 1. I was confident of my riding, and I was confident that I would be a podium contender this week. But with that scary crash, my weekend kind of finished at that point. I should be able to get back my original settings at the final round in Jerez, so I am going to give all I have then."
Race Result
Qualifying 5th  Best Lap 1'39.843
Race 1  DNF Best Lap 1'39.440
Race 2  6th Best Lap 1'40.311
Standings 4th 107 points