Uramoto shows improvement, but finishes 4th and 5th at Jerez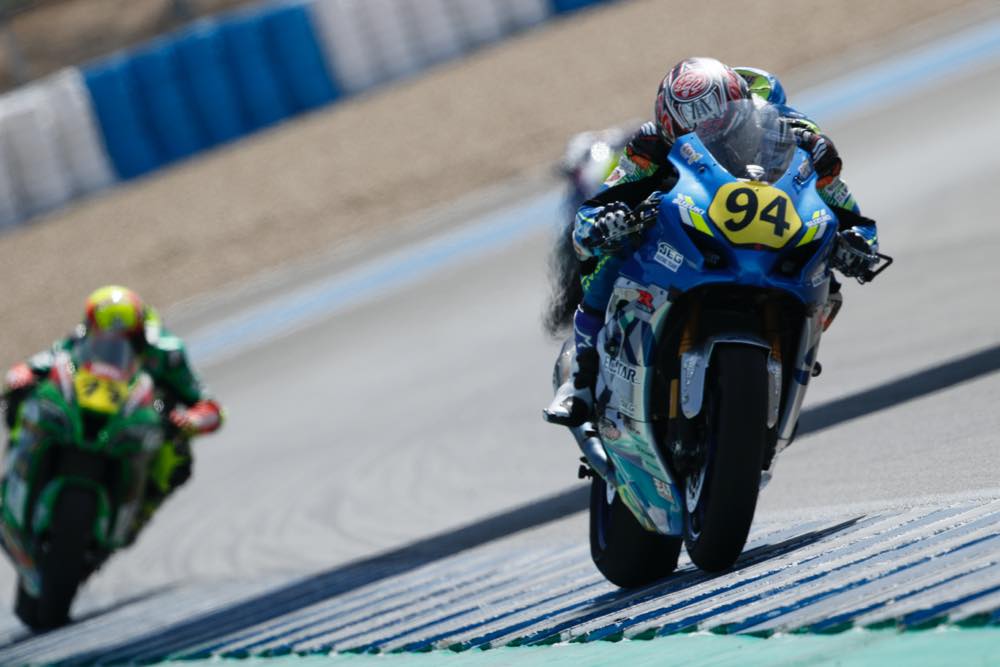 Naomichi Uramoto Media Information | 9.28.2020
The 4th Round of the ESBK Campeonato de España de Superbike (Spanish Superbike Championship) took place at Circuito de Jerez Ángel Nieto, a familiar circuit to motorcycle race fans all over the world. Located in central part of Spain, this circuit is famous as a technical course. Riders will need to not only focus on the bike setting, but must also adjust their riding style, making the track difficult to find the right setup.
Naomichi Uramoto, reflecting the race week at Valencia, decided to go back to the base setting at Barcelona-Catalunya, where he won the race. Uramoto focused on improving his setup on Thursday and Friday. He had a good feeling with his bike, and was getting good response from his Suzuki GSX-R1000.
Day 3 of race week, so qualifying in the morning with Race 1 held in the afternoon. Uramoto made sectors at equal time as the top riders, but was struggling from getting a clear lap. He would make a time attack, slow down to try to get a clear lap, then go for another time attack. This cycle continued until the end of the qualifying session, and failed to get a perfectly clear lap. Uramoto qualified 6th with a lap of 1'42.421, and secured his grid on the second row for Race 1.
Race 1: Uramoto jumps up to P5 immediately after start, but would continue on the battle for P5 during the first half of the race. He eventually made his way through the pack, but the top 4 riders were already way ahead of him at that point. However, Uramoto, maintaining a good pace would catch up with the rider in front of him in the final stages of the race. The rider in P4 crashed out on the final lap of the race, making Uramoto receive his chequered flag in 4th place.
Race 2: Regulation change this year made the grid for Race 2 decide by the result of Race 1, which allowed Uramoto start from the 4th grid. However, Uramoto could not cash in on this, and made a mistake at green light, making him drop to P6 in the opening lap. He would drop to P7. The battle for P5 would continue until the late stage of the race, but the time Uramoto made a comfortable lead at P5, the leaders had once again ran away. Uramoto finished 5th in Race 2. Because Uramoto was pacing at the same lap time as the leaders, his mistake at start cost him the race.
Round 5 of the Spanish Superbike Championship is scheduled for 17-18 October, at Navarra Circuit.
Naomichi Uramoto
"I had a good feeling all throughout the week, but I failed in making the race. Jerez was never a favorite track for me, but I was able to ride in good rhythm from day 1. I was able to finish the race simulation on Friday with a good feeling, so I was looking forward to the race, but I guess I am not quite there yet….. But we are definitely improving and headed to the right direction, so I will not give up do my best at the next round. Thank for supporting me as always!"
Race Result
2020 Campeonato de Espana de Superbike Round 4
Circuito de Jerez Ángel Nieto
Qualify 6th   Best Lap 1'42.412
Race 1  4th Best Lap 1'42.084
Race 2  5th Best Lap 1'42.234
Standings 4th 96 points