Uramoto gets podium finish at Valencia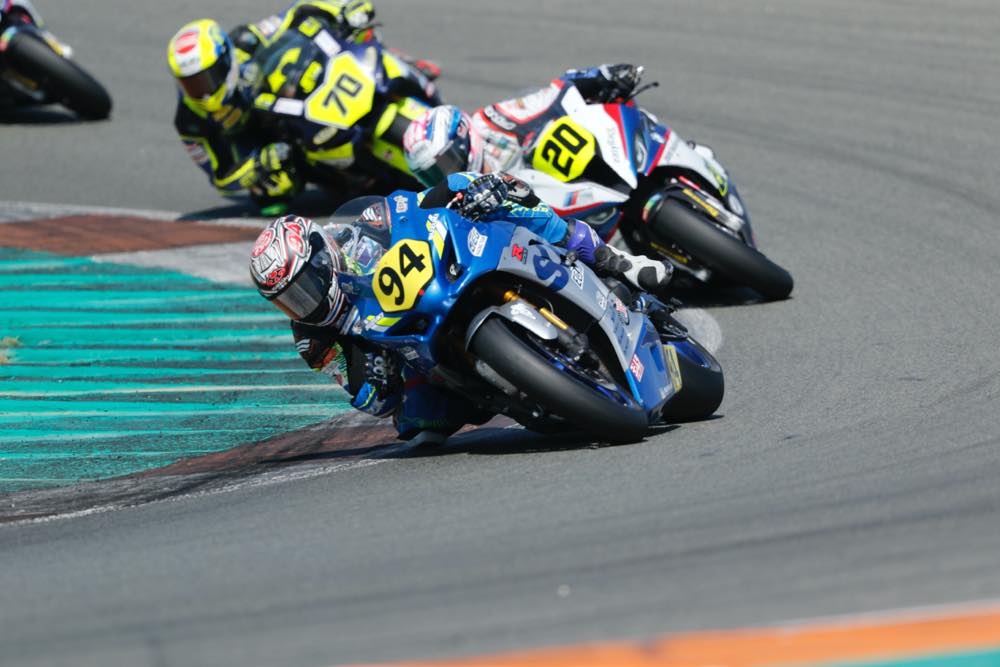 Naomichi Uramoto Media Information | 9.14.2020
After winning his first ever race in Europe, Naomichi Uramoto made a brief return to his home in Japan, and refreshed both physically and mentally. Now back in Spain, he returned to the ESBK paddock in Circuit Ricardo Tormo for Round 3 of the 2020 season.
Practice sessions were held on Thursday and Friday, Uramoto continued to turn laps trying to find a good setting for this track. Although he felt good about the speed he had, he wasn't completely satisfied with the setup he had.
His doubts about the setting became real at the Qualification Practice held on Saturday morning. Although he recorded his best lap at 1'35.321, which was faster by more than a second compared to his qualification lap last season, he was only able to manage the 7th grid. Uramoto was not satisfied by this result, as he was aiming for his second win at Valencia.
Race 1 was held in the afternoon immediately following qualifying. Because there were not much time between qualifying and Race 1, no major changes to the bike was made, avoiding to take big risks. Uramoto immediately jumped up to P6 right after start, and would continue to battle for P6 until midway of the race. By the later half of the race, Uramoto would make up his position to P4, and charge his way to catch Miquel Pons who was racing at P3. Uramoto's big opportunity came at the final corner on the final lap. Uramoto, seeing an opening on the inside of Miquel, took a pass. Miquel, with nowhere to go, went off the track. However, Uramoto lost balance and almost fell, allowing Miquel to pass him back. Miquel Pons crossed the finish line 3rd, and Uramoto 4th.
However, officials of ESBK penalized Miquel for accelerating before he came back on the track, and the final results concluded Uramoto on the podium at 3rd, and Miquel 4th.
Analyzing that the setting of Race 1 will not make him competitive enough, Uramoto took a big risk and made a big change to his bike for Race 2. But unfortunately this change did not turn for the better. With an unstable setup, Uramoto struggled throughout Race 2. Although he made a good start, and jumped up to P4, he would gradually fall back. He managed to finish the race at 6th place, and ended the week a frustrating one.
Round 4 of ESBK is scheduled to be held 24th to 27th September at Jerez Circuit.
Naomichi Uramoto
"I had good feelings in practice sessions, but the race weekend became a little frustrating for me. I wasn't able to catch up with the top group, and the races finished before I could do anything about it. Getting on the podium was a good thing, but I am more unhappy than happy this week. I plan to discuss with the team for solutions, and make sure the same thing won't happen in Jerez."
Race Result
Qualifying 7th  Best Lap 1'35.321
Race 1  3rd Best Lap 1'35.680
Race 2  6th Best Lap 1'35.851
Standings 4th 72 points