Uramoto earns point for his season opener at Albacete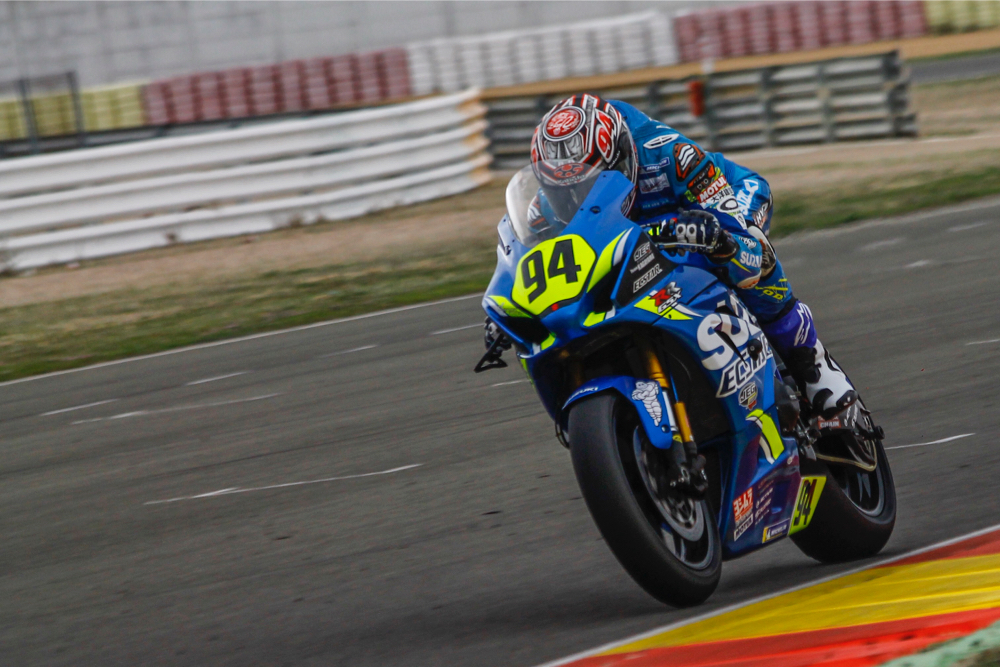 Naomichi Uramoto, making his full season debut at the RFME Campeonato de España de Velocidad (RFME Spanish Championship) Stock1000 category, opened his season at Circuito de Albacete, located approximately 200km southwest of Valencia, Spain. Uramoto will race with JEG Racing, the same team he raced three wildcards last season. JEG Racing and Team KAGAYAMA strengthened its colloboration this year by entering Uramoto as SUZUKI JEG/KAGAYAMA Racing.
To prepare for the season opener, Uramoto traveled to Spain early, and tested at the team's home track of Valencia. Although he will be riding on the same SUZUKI GSX-R1000 as last year, the team have opted to use Michelin tires this season, and the test was to make sure he had the right base set-up before the opening round.
Circuito de Albacete is popular to World SBK and BSB teams during the cold winter in Europe, as it is relatively warmer in southern Spain during the winter. The track has hosted World SBK and Endurance World Championship races in the past. The length of the track is 3.550km with 14 turns.
Unofficial practice sessions started Thursday of race week, and although official results were not published, Uramoto made progress with the set-up and was within a second of the best lap of the race last year. Two qualify practices were held Saturday, and Uramoto lapped a 1'32.745 in the first qualifying session and slid into P12. He anticipated on improving the lap time in the second session, but ended in no success. He could not improve his lap time with a 1'33.025 in the second session, and qualified P17.
Uramoto's target for the race to was to finish as high as he can, and earn points. He started the race and soon gained position, and was up to 15th in his first lap. He tried to further speed up the pace, but could not and maintaining his position was the best he could do. He endured until the final laps of the race and eventually finished an overall 14th (13th in STK1000) and earned his first points for the season.
Naomichi Uramoto
"I feel frustrated about myself, as I know I could have done better. I was able to adjust my riding during the race week, so I guess that's a good thing. I am going to ride more as soon as I return to Japan so that I am more prepared for the next round at Catalunya. I would like to thank Yukio Kagayama of Team KAGAYAMA for giving me this big opportunity, the team for giving me their best support throughout the test and race week, Suzuki and my sponsors, and to my fans for their continuous support!"