Honda introduces "Honda Asia-Dream Racing" to enter the Japanese Championship full season with Makoto Tamada as Team Manager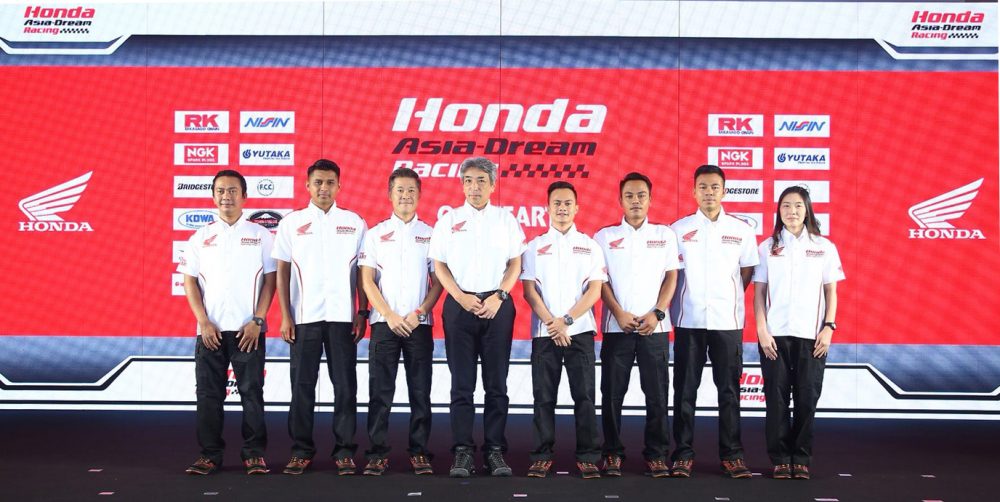 Honda's group of companies in Asia and Oceania announced today in Bangkok, Thailand, the establishment of a new motorcycle racing team, "Honda Asia-Dream Racing". The team will race full time in the MFJ All Japan Road Race Championship JSB1000 category and the prestigious Suzuka 8Hours race this year. Makoto Tamada, has been appointed Team Manager, and Zaqhwan Zaidi of Malaysia has been appointed as the leading rider for the team.
"Honda Asia-Dream Racing" is a version-up of "Satu.Hati Honda Team Asia" which Tamada has raced as rider in the Suzuka 8Hours as rider in 2012 and 2013, and as Team Manager from 2014 to 2017. The Asian All-star Team comprised of selected members from Malaysia's Boon Siew Honda, Indonesia's Astra Honda, and Thailand's A.P. Honda. The new team will continue on with its legacy as Honda's Asian All-star team. The decision for the new team was made to prepare for the ASB1000 category (Asia Superbike 1000) which is starting in the FIM Asia Road Racing Championship from 2019.
Zaqhwan Zaidi, a two-time ARRC SS600 Champion, race alongside big-names such as Ryuichi Kiyonari, Yuki Takahashi, and Tamada, and proved himself to be one of the best riders Asia have ever seen. Zaqhwan has also raced in the Moto2™️ World Championship, and has been racing in the Suzuka 8Hours from 2016.
Honda's Thailand group company, A.P. Honda has also announced today its 2018 race plans. Makoto Tamada will continue as Team Manager of their ARRC squad with new riders, Passawit Thitivararak of Thailand and Keisuke Kurihara of Japan in the Supersports 600 team.
2018 MFJ All Japan Road Race Championship Calendar
Apr8 Rd1 SUPERBIKE RACE in MOTEGI
Apr22 Rd2 SUZUKA 2&4 RACE
May13 Rd3 AUTOPOLIS SUPER 2and4 RACE
June17 Rd4 SUGO Super Bike Race
Aug19 Rd6 MOTEGI 2&4 RACE
Sept2 Rd7 SUPERBIKE RACE in KYUSHU
Sept30 Rd8 SUPERBIKE RACE in OKAYAMA
Nov5 Rd9 MFJ GRAND PRIX SUPERBIKE RACE in SUZUKA
2018 FIM World Endurance Championship Final Round
July26-29 The 41st "Coca-cola"Suzuka 8Hours Endurance Race Suzuka Circuit, Japan
2018 FIM Asia Road Racing Championship Calendar
Mar4 Rd1 Chang International Circuit, Thailand
Apr22 Rd2 The Bend Motorsports Park, Australia
June3 Rd3 Suzuka Circuit, Japan
Aug5 Rd4 Madras Motor Race Track, India
Oct14 Rd5 Sentul International Circuit, Indonesia
Dec2 Rd6 Chang International Circuit, Thailand