Sena Yamada to race full season in ARRC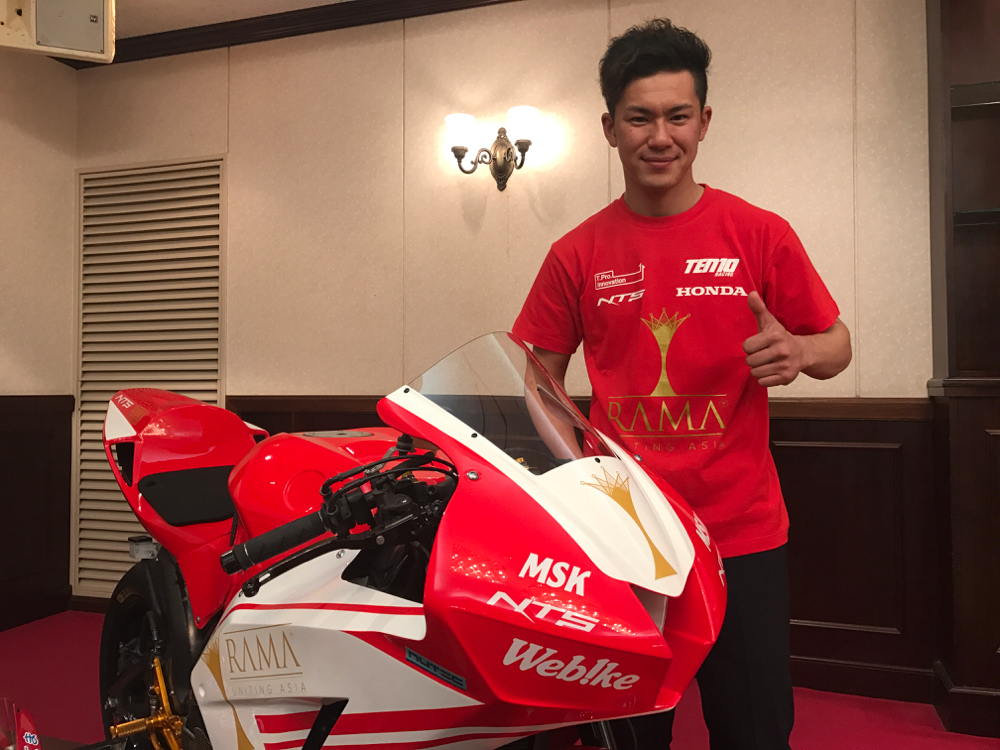 We hereby annouce that Sena Yamada will be racing full season with RAMA Honda by NTS T.PRO Ten10 Racing in the FIM Asia Road Racing Championship (ARRC) Supersports 600 category.
Sena Yamada made his debut in the All Japan Road Race Championship GP125 category in 2008. As the GP125 made its change into a 4-stroke engine category called J-GP3, Yamada continues his racing career, and in 2014 wins the J-GP3 title. In 2015, he raced full season in the Moto3 CEV Spanish Championship in the Moto3 category, and advances to the Moto2 CEV European Championship full season in 2016. Yamada has 6 wins in the Japanese Championship. This will be Yamada's first season in ARRC. Yamada will be racing on Honda CBR600RR with Dunlop Tires. His entry number will be #17.
RAMA Honda by NTS T.PRO Ten10 Racing was established in 2012, with former HRC factory rider, Yusuke Teshima as team owner and manager. The team has raced in ARRC ever since, as well as racing full time in All Japan Road Race Championship and CEV European Championship. The team's ARRC squad finished 2nd in both team and rider rankings last season.
ARRC is based in Southeast Asia where the market is the most important for the motorcycle industry. The series travels to 5 countries in 6 rounds and 12 races for the Supersports 600 category. The level of racing has significantly increased over recent years, mainly due to top World Championship experienced rider from Japan entering the series. Vice versa, most Asian riders that now or have raced in the World Championships are graduates of ARRC, and the series has become the gateway to the World Championships for Asian riders.
Yamada will be make his ARRC debut at the Official Test scheduled for March 15-16 at Sepang International Circuit in Malaysia. His first race will also be at Sepang, in Round 1 of ARRC, scheduled for March 31-April 2.
Series: 2017FIM Asia Road Racing Championship
Category: Supersports 600
Number: #17
Team: RAMA Honda by NTS T.PRO Ten10 Racing
Machine: Honda CBR600RR
Tires: Dunlop
Sena Yamada | Rider
"I would like to thank team owner, Mr. Teshima, all the sponsors, and Honda for giving me this opportunity to race in the Asian Championship. All circuits except for Suzuka would be a new track for me, but I plan to race up front from the beginning of the season.The level of the riders are very high. The team almost won the Championship Title last year, and I hope to win that title for the team this year, and make it my opportunity to be back in the World Championship."
Yusuke Teshima | Team Owner and Manager
"I have known Sena for a long time. He was racing in Spain last year, and I was always looking for an opportunity to join up with him. He is a very skilled rider, I am happy that it did not take long for that to happen. He has come to Asia from Europe, but I hope this will be an opportunity for him to return racing in Europe"
2017 ARRC Provisional Calendar
| | | |
| --- | --- | --- |
| Round 1 | March 31 – April 2 | Sepang International Circuit | Malaysia |
| Round 2 | April 13 – 15 | Chang International Circuit | Thailand |
| Round 3 | June 2 – 4 | Suzuka Circuit | Japan |
| Round 4 | August 11 – 13 | Sentul International Circuit | Indonesia |
| Round 5 | October 6 – 8 | Buddh International Circuit | India |
| Round 6 | Nov 30 – Dec 3 | Chang International Circuit | Thailand |