Kagayama and Kiyonari with Uramoto joins forces again for Suzuka 8Hours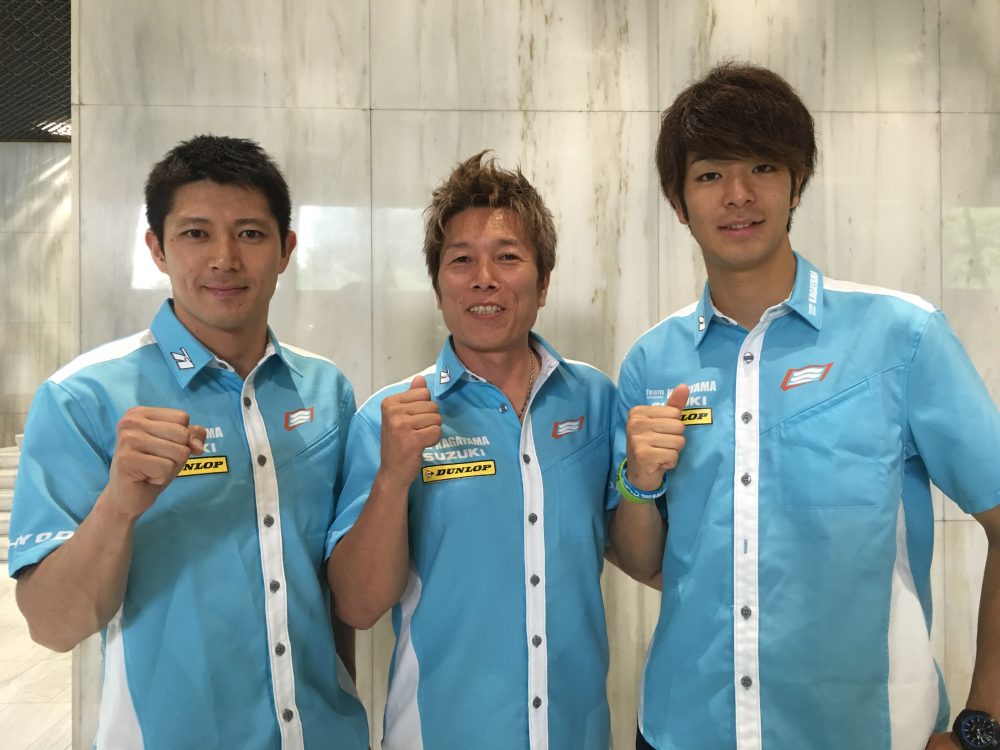 Team KAGAYAMA announced its rider line-up for the 39th "Coca-cola Zero" Suzuka 8Hours FIM Endurance World Championship today.  With team owner and 1st rider, Yukio Kagayama, current Bennetts Suzuki rider in the British Superbike, Ryuichi Kiyonari joins the team for the 2nd consecutive year as 2nd rider. The team's J-GP2 rider in the Japanese Championship and is winning 3 consecutive races from the season opener , Naomichi Uramoto joins the team's 8Hour squad for the first time. With this rider line-up, the team aims for its 4th consecutive podium finishes and their first Suzuka 8Hours win.
Kagayama made a surprise line-up with Kevin Schwantz and Noriyuki Haga when his team first joined the Suzuka 8Hours in 2013. He continued making surprises by bringing Dominique Aegerter who was riding a Honda in Moto2™ in 2014, and Kiyonari who was riding a BMW in BSB last year. The "Dream Team" have won 3 consecutive podium finishes from the first time they raced, a difficult feat for a privateer team. This year Kagayama chose for an all-Suzuki team, for one reason only-to fulfill his dream of winning the Suzuka 8Hours. This year's "Dream Team" is a team for Kagayama himself.
Kiyonari currently is riding the Suzuki GSX-R1000 with Bennetts Suzuki in the BSB. Unlike last year, where he rode the machine for the first time, he knows the machine better, and with his 2nd year with the team, he also knows the team better. His new teammate Naomichi Uramoto is a member of Team ON, an off-season training team that Kiyonari himself made. Uramoto lives on the 1st floor of Kiyonari's home in Japan, and they know each other well like brothers.
The countdown to the Suzuka 8Hours win begins……
Yukio Kagayama | 1st Rider and Team Owner
"First of all, I would like to thank our sponsors, for making it possible to race at Suzuka 8Hours again. This year, we will have Ryuichi Kiyonari back, and there are no words needed to describe him. We will also have Naomichi Uramoto, who is young and with unpredictable potential. We will aim for the win with this line-up this year."
Ryuichi Kiyonari | 2nd Rider
"I was hoping I can race with Team KAGAYAMA again this year at Suzuka, so I am happy, as well as thankful that I was given this opportunity. My only goal is to win!"
Naomichi Uramoto | 3rd Rider
"I would like to thank Kagayama-san for giving me this opportunity, as well as my supporters. To be able to race in a team who have accomplished many and with Kagayama-san and Kiyonari-san who both I respect, is something I am going to profit from in the future. As much as it an experience for me, I am going to do my best to win the race with the team"